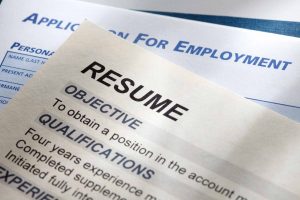 Let's get the bad news out of the way. Your resume will most likely be one of hundreds. It will sit in a pile on a staffing consultant's desk until it's finally picked up and read.
In that pile of resumes are people who are equally qualified to get the job.
Now, the good news.
If your resume stands out above the rest in that pile, then you are more likely to get the interview and then the job.
How do you make your resume stand out above the rest? Let's find out.
The Resume You Present To Staffing Consultants Isn't Just A List
Lists are useful. You make them when you need to get things done during the day. Or you use them to remember what to get at the store.
But a resume is more than this.
The average time a recruiter spends looking at a resume is 5-7 seconds. 
So, your resume needs to be as effective as a five-second commercial. 
It needs to be clear and honest. And staffing consultants need to glean what they should know about you in a few seconds. 
The facts about you are going to remain the facts. If a recruiter chooses to, they can fact check your resume by calling around. And 56% of managers surveyed have caught candidates lying on their resumes.
So the facts need to remain the same. But the quality of your resume can be changed.
You can strengthen your resume in two ways. Content and appearance.
Remember your audience and your goal. A 5-second advertisement that catches the eye and convinces.
First, Avoid Fluff
Get to the point. Only mention the facts about yourself.
There is no need for desired salary, references, and impertinent personal information. 
It doesn't matter to the staffing consultants whether you're married with five children. 
And "References: Available Upon Request" should be sufficient unless you have some high impact professional references to mention. 
And salary can be mentioned in an interview. 
The Summary Statement Is Key
Why do most employers and recruiters only take 5-7 seconds to look at a resume? Because the summary statement is usually enough for a rejection.
Why is this person seeking a job? If the answer is unsatisfactory, then on to the next one.
In your summary statement, be concise and stick to the duties you're applying for.
If they can tell you understand the role they need to fill, they might read further. 
Don't think that you will impress a recruiter with "climbing the ladder" aspirations. They are hiring for a very specific position. And they already assume you will want to climb the ladder into a better position some day. 
Build A Strong Case 
Once you hook staffing consultants with a strong summary statement, you have to build a strong case.
Start with your professional achievements in the particular field. Then move on to educational achievements.
Then areas of competency below your education. And the professional certifications after that.
Then include the milestones you've reached that show you are a leader or fit for the job.
And in the last part of the resume, you can mention relevant skills and experience outside your career.
One Page And Done
If it doesn't fit on one page, you have to cut. More than one page is too much.
If you can keep the fluff to a minimum, write a concise summary statement and then build a strong case, you will have a standout resume.
If you're looking to apply as an insurance professional, register now to access all of our available positions.