The focus is on flood insurance.
What constitutes a flood? Why isn't it covered on a homeowner policy?  What is a Flood Policy? What does it cover? How do you obtain coverage? What is the NFIP? Is it the only provider of Flood coverage? The tides of flood insurance are constantly changing. The regulation, as it stands, mandates a pressing need for knowledge due to the complexities of flood insurance requirements.
When a Homeowners Insurance Policy states that Sudden Water Damage is covered, most people think that flood is covered. Unfortunately, a common type of sudden water damage that is never covered under homeowners insurance is a flood. This is a common misconception many have because they take the term "sudden water damage" and apply it to what they would reasonably think that means. And, a flood, to a reasonable person would most certainly be defined as sudden water damage. But, flood insurance is never covered under homeowners insurance and one must buy a separate flood insurance policy to have coverage from a flood.
For many years the NFIP, operated by FEMA was the only program offering flood insurance. The U.S. Congress established the National Flood Insurance Program (NFIP) with the passage of the National Flood Insurance Act of 1968. The NFIP is a Federal program enabling property owners in participating communities to purchase insurance as a protection against flood losses in exchange for State and community floodplain management regulations that reduce future flood damages. Participation in the NFIP is based on an agreement between communities and the Federal Government. If a community adopts and enforces a floodplain management ordinance to reduce future flood risk to new construction in floodplains, the Federal Government will make flood insurance available within the community as a financial protection against flood losses. This insurance is designed to provide an insurance alternative to disaster assistance to reduce the escalating costs of repairing damage to buildings and their contents caused by floods.
The NFIP operated by FEMA (The Federal Emergency Management Agency) (FEMA) is an independent Federal agency reporting to the President. Founded in 1979, FEMA's mission is to: Lead America to prepare for, prevent, respond to, and recover from disaster.
FEMA is responsible for coordinating the Federal response to floods, earthquakes, hurricanes, and other natural or man-made disasters and providing disaster assistance to States, communities and individuals. Disasters are declared by the President at the request of the Governor of the impacted State if the impacts of the disaster exceed the ability of the State and the affected communities to respond.
The Federal Insurance and Mitigation Administration (FIMA) within FEMA is responsible for administering the National Flood Insurance Program (NFIP) and administering programs that provide assistance for mitigating future damages from natural hazards.
In addition to a headquarters office in Washington, D.C., FEMA has 10 regional offices.
FEMA now has a $24 billion budget deficit on the flood program and FEMA is aware that it needs assistance.  Recent legislation has paved the way for private industry to offer Flood Insurance.
Let's Illustrate the differences between a Homeowners Policy VS the NFIP Flood Insurance:
Homeowners Policy vs. NFIP offered by FEMA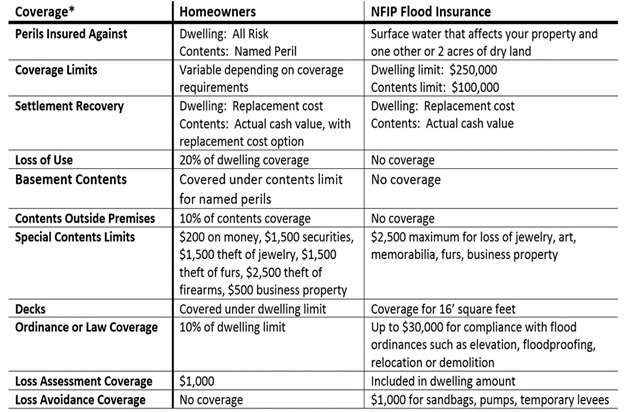 A number of early entrants to the private market flood offered policies similar to the NFIP, however recently others have offered access to higher limits and simplified underwriting and application processes.
Private Market Flood Policy
What are the coverage limits of a Private Market Flood policy?
The coverage limits for a Private Market Flood insurance policy are as follows:
$500,000 of building coverage for a residential dwelling.
$250,000 of contents coverage for a residential dwelling.
$500,000 of building coverage for a non-residential or other residential building
$500,000 of contents coverage for a non-residential or other residential building
Excess Flood Insurance
What is excess flood insurance?
An excess flood insurance policy allows you to cover your buildings value when it exceeds the maximum available limits ($250,000) of the NFIP or Private Market Flood policy.  Excess flood insurance can be purchased whether the primary policy is a Private Market Flood policy or a NFIP flood policy.
Your Agent can advise you regarding the limits of coverages as well as types of structures included or excluded by Private Market Flood vs NFIP Policies.